Hard Drive Shredding, Media Destruction & Recycling Services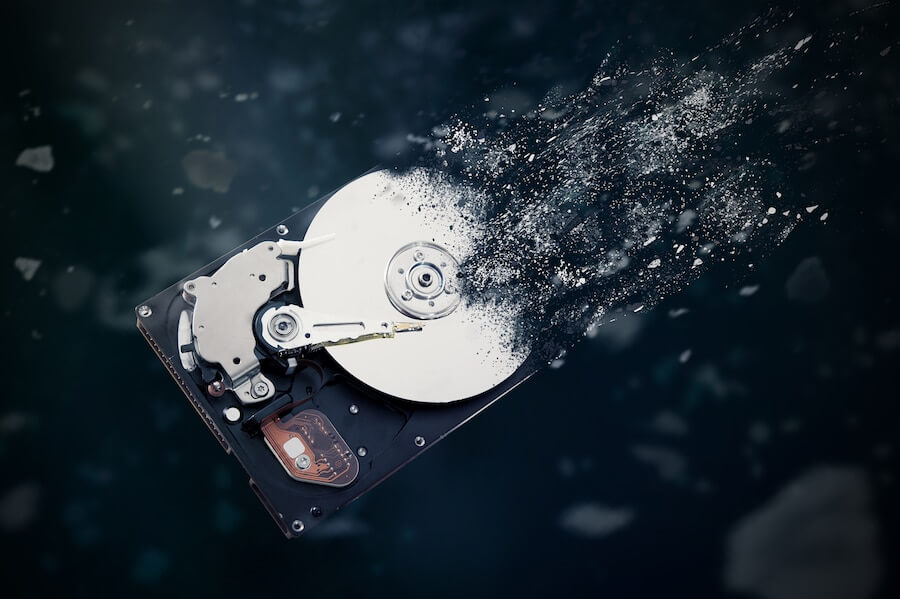 Identity theft and business fraud prevention isn't just about protecting your paper records. A single tape or hard drive contains a warehouse-full of confidential information. Without a secure destruction solution for your outdated media, sensitive personal, financial and medical information could fall into the wrong hands. Don't roll the dice with your data!
The Shred Truck's hard drive and media destruction service protects your customers and employees from identity theft and helps keep your business compliant with federal privacy laws. We shred your media into indecipherable, impossible-to-reconstruct pieces on-site at your business.
For an end-of-lifecycle data disposal solution that offers unparalleled security, please call us at 314-729-9200 or complete the form on this page.
Click to Call 314-729-9200 for Prompt, Reliable Shredding Service Today.
Secure, Reliable Data Destruction
Did you know that armed with the right tools, thieves can extract sensitive data from erased hard drives, tapes, and digital devices? Formatting or degaussing hard drives, tapes, and other magnetic media isn't enough. Shredding is the only way to ensure confidential data can't be accessed again.
The Shred Truck destroys your media in a matter of minutes while you watch. Your data never leaves your sight. Our screened, trained shredding technicians collect media from your office and takes it directly our mobile shred truck for on-site destruction while you watch. We offer a turnkey destruction solution for virtually any type of electronic storage device, including:
CDs/DVDs
Diskettes
Super Disks
LTO/Ultrium
3480/3490/3580/3570/9840/9940 Tapes
SLR/MLR/DLT
Round Reel Tapes
Magnus
Travan
Hard Drives
Flash Drives
Optical Platters
VHS/Beta Tapes
After your data destruction project is completed, we provide you with a Certificate of Destruction. You won't find a more reliable and secure way to destroy your outdated and unwanted media.
For more information about our hard drive and media destruction service, please call us at 314-729-9200 or complete the form on this page.
NAID AAA Certified Shredding Services
As your privacy protection partner, The Shred Truck is committed to safeguarding your information. We are AAA Certified for computer media destruction by the National Association for Information Destruction (NAID), the authoritative, standards-setting organization for the information destruction industry. The Shred Truck's background-screened, professionally-trained shredding technicians handle your information within a strict chain of custody at all times, and our media destruction processes comply with federal privacy regulations.
For more information about our on-site mobile data destruction solution or to receive a free quote, please call us at 314-729-9200 or complete the form on this page.