Rolla's Trusted Choice for Mobile,
On-Site Document Shredding Services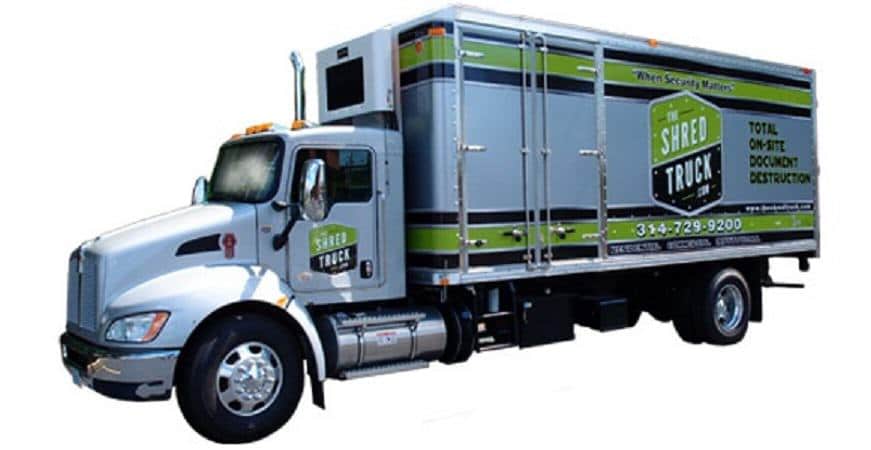 You know that companies have a legal obligation to keep certain types of records for a specific period of time. But did you know that keeping records beyond their retention period can cause logistical problems, cost overruns, privacy issues, and even create legal liability? Expired documents take up valuable office space, and as identity theft crimes continue to rise, it's more important than ever to destroy confidential documents when they reach the end of their retention lifecycle.
The Shred Truck™ helps Rolla businesses destroy their information securely and on time. We offer an array of turnkey document shredding services, including:
To learn more about our paper shredding services or to request a free quote, please call us at 314-729-9200 or complete the form on this page.
Call 314-729-9200 for On-Site Shredding at your Rolla location!
Quick, Easy and Secure Shredding
Sure, you can shred your documents with a store-bought office shredder—but your time is valuable. Outsourcing your document destruction to The Shred Truck™ eliminates the hassle of removing staples and paperclips from your documents and hand-feeding them into a sluggish paper shredding machine. Our background-screened, trained shredding technicians destroy your documents for you. The Shred Truck's advanced mobile shredding technology destroys both paper and non-paper media quickly and securely. You won't find a more secure and efficient privacy protection solution in Rolla!
NAID AAA Certified Shredding
Whether you need one-time or recurring scheduled shredding, we're committed to protecting the privacy of your information. As a NAID AAA Certified shredding provider, we are subject to stringent, unscheduled audits confirming our compliance with industry standards and ethics. All employees of The Shred Truck™ go through extensive annual background investigations, drug testing, and secure shredding policies and procedures training to continually safeguard your sensitive information.
Privacy Law Compliance
In today's world, corporate data breaches come with big consequences, including fines, negative publicity and civil suits. The following regulations require secure disposal of documents at the end of their retention lifecycle:
The Health Insurance Portability and Accountability Act (HIPAA)
The Fair and Accurate Credit Transaction Act (FACTA)
The Gramm-Leach-Bliley (ACT)
The Shred Truck™ helps your business meet legal and regulatory standards. We maintain a strict chain of custody for your information from pickup through shredding and give you a Certificate of Destruction noting the time, date and method of destruction.
To learn more about The Shred Truck's services in Rolla, please call us at 314-729-9200 or complete the form on this page.
How It Works:
Mobile, On-Site Shredding Services in Rolla, MO is as Easy as 1,2,3...
On your scheduled day of service, a professional from The Shred Truck™ will arrive at your location with our state-of-the-art mobile shredding truck and gather your documents from their secure collection containers. You don't have to lift a finger.
Our shredding technician will quietly transport your sensitive documents to the mobile shredding truck on your property, and if you choose to, you can observe the shredding process in person.
You will be provided with a Certificate of Destruction to prove that your documents have been securely destroyed by a local, NAID AAA Certified information security professional.
Your Custom, Discounted Pricing Depends On:
Whether you need One-Time or Recurring, Regularly Scheduled Service. The Shred Truck™ can be at your office on a weekly, bi-weekly, monthly, or custom-scheduled basis. Let us know the schedule that works for you, and we'll make it happen.
How many consoles and bins your office will need, if any, to secure your patient, customer or client data.
How much sensitive information needs to be shredded.
How many locations you have, and their distance from each other. The Shred Truck™ services large campuses and multi-location organizations in the most efficient way possible.
Not sure what type of service your organization needs? No worries.
We will send a document shredding and management specialist to your facility to perform an evaluation and provide you with a free cost estimate.
Find out for yourself why your Columbia neighbors trust The Shred Truck™ to securely destroy
their confidential and sensitive internal, client, patient and customer data.