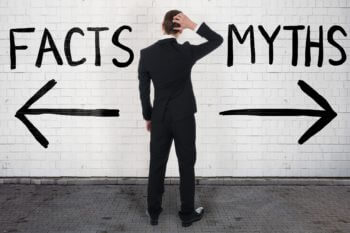 When it comes to protecting your information, it pays to know the facts. Yet in talking to thousands of customers over the years, we realize just how many organizations are uninformed about document shredding. We want you to know the facts. Here are five common document shredding myths to avoid:
Myth 1: Shredding Takes Too Long
It's true that shredding documents with an office shredder takes time. But that's not the case when your documents are professionally destroyed. A mobile shredding truck has advanced shredding technology that destroys your documents in a fraction of the time of an office shredder. And best of all, your documents are shredded for you so you can focus on other important business goals.
Myth 2: Paper Recycling Is More Important
There's no doubt that corporate recycling programs make a huge difference in helping the environment. But not shredding expired documents can lead to major consequences for your business, including:
Brand damage
Regulatory non-compliance fines
Lawsuits
When you outsource your shredding to a provider that uses green practices, you also receive an environmentally-sustainable paper recycling solution. After your documents are shredded, the shredded material is baled and transported to a trusted recycling facility where it's pulped. The recycled paper fiber is used in the production of a variety of business and consumer products, including tissue, office paper, books, and magazines.
Myth 3: No One Rummages through My Trash
Unfortunately, the opposite is true. Thieves often sift through corporate dumpsters and trash bins looking for sensitive personal data, financial records, trade secrets, and any other confidential information they can make a profit from on the black market. You may already be a victim without knowing it. The best way to protect discarded documents from being stolen and exploited is by maintaining a secure chain of custody that starts at disposal and ends after your documents are professionally destroyed.
Myth 4: I May Need My Documents Later
It's rare that you need to keep your documents forever. Although some documents may have a permanent retention lifespan, most can be discarded after several years. Check with an accounting or tax professional to confirm your document retention requirements. When they reach their final disposition date, destroy them.
Myth 5: I Can't Afford Professional Shredding
Have you added up the time and money required to shred your documents in house? Why pay your employees to shred documents when they can focus on creating revenue for your business? It's surprising how affordable a professional shredding service is, especially if you work with a shredding provider that offers document destruction solutions tailored to your budget.
We hope that by debunking these myths, we've provided you with a clearer understanding of paper shredding and its benefits.
The Shred Truck™ provides NAID AAA Certified, mobile, on-site paper shredding and hard drive destruction services in and around St. Louis, Missouri. For more information, please call us at 314-729-9200 or complete the form on this page.