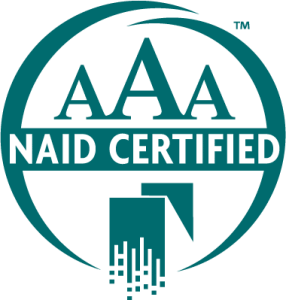 The Advantages of Hiring a NAID AAA Certified Destruction Company
The National Association of Information Destruction (NAID), established in 1994, is a non-profit organization dedicated to the secure data destruction industry. It was established as a trade organization for companies who provided direct data destruction and shredding services. The primary mission of NAID is to advocate standard of best practices across governing agencies on a global scale. Additionally, NAID is also the governing body as it grants AAA Certification® to shredding and destruction companies like The Shred Truck. Read along as we go through what this certification entails, how it is received, and the advantages of working with an NAID AAA Certified® shredding company.
NAID AAA Certification® Requirements
A shredder and destruction supplier must pass yearly, unannounced audits conducted by independent Certified Protection Professionals® to get AAA accreditation. Maintaining AAA accreditation requires a passing grade. The following areas are evaluated throughout each audit:
Security of operations and facilities
Processes of data deletion
Hiring procedures for employees
Liability insurance coverage
These thorough inspections guarantee that your information is destroyed in accordance with the industry's highest standards for shredding and destruction.
Security
AAA NAID Shredding and disposal services that are certified fulfil the most stringent security requirements. Sensitive and confidential information is always kept under lock and key. When collecting your papers, secure shredding collection containers are utilized. To safeguard your information from unwanted access, uniformed and background-screened shredding experts follow a strict chain of custody process. Throughout the shredding process, these stringent requirements ensure that your workers, customers, and vendors are safe from identity theft and business fraud.
Compliance
Businesses are required to maintain data protection policies and procedures under HIPAA, FACTA, GLB, and numerous state requirements. Noncompliance can result in monetary fines as well as civil and criminal charges. Working with an NAID AAA Certified shredding supplier will help your company comply with state and federal privacy laws. The whole process of paper shredding and media destruction is videotaped and preserved for 90 days. After each shredding and destruction operation, a certificate of destruction is given, providing legal confirmation of your organization's compliance with information disposal laws.
Peace of Mind
Running a business is difficult enough; outsourcing your data deletion shouldn't be added to the mix. When it comes to shredding your most personal and sensitive information, choosing an NAID AAA Certified shredding partner gives you the peace of mind you need.
Having provided document shredding services many years, The Shred Truck serves clients from a wide range of industries. These industries include governmental agencies, medical, legal entertainment, and financial organizations. Please reach out to us today at 314-729-9200 or fill out our contact form for additional information about NAID AAA Certified shredding and destruction.