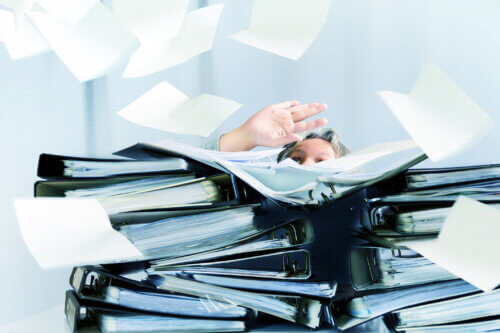 The difference between a successful business and a failed one is a thin line composed of tiny decisions. Who should you hire? What's the best advertising strategy? Will you use cloud storage or a filing cabinet? It's these seemingly insignificant choices that pave the way for your company, and frequently, what might seem like the obvious answer can turn out to be a mess in practice.
If you work with any kind of personally identifiable information (PII), then taking early action to protect your business from liability and the risk of a data breach is essential. But what does that look like in your office? Your employees handle confidential information during every moment of the day, which means there are plenty of opportunities for the information to be lost or stolen. Digital data protection is one thing; protecting your physical documents is another.
It's obviously not impossible; there are plenty of successful professionals who have found the perfect balance. So what choice should you make to give your company the best chance of success?
The Earnest Mistake of In-House Shredding
If we've heard it once, we've heard it a thousand times: a new client, amazed at the affordability of scheduled document shredding, lamenting the time, energy, and money they dumped into an in-house shredding program.
In-house shredding is one of those options that seem to make perfect sense at first glance. You'll just handle it yourself, keep the job in-house, and train your employees on the right way to do it. Once the documents are gone, your employees can work more effectively, and your clients will be happy that their information is protected. What could go wrong?
Sunk Costs, Expensive Complications
The first indicator comes with the price of an off-the-shelf shredder. To get one that's as effective as it needs to be at protecting your information – that is, to cross-cut documents into pieces less than 0.24"x0.25" in size – you need a specialized machine that will run you several thousand dollars.
Once you've huffed and puffed and got the shredder set up, it's time to determine who will run it. Which employee's time is least valuable who can also be trusted and trained to handle confidential information? If you've hired a strong team, then tasking any employee with shredding is a waste of their potential. But it's got to be done – the shredder won't operate itself.
Of course, before the shredding can begin, the employee must rip out staples, fight with rubber bands, and painstakingly search for paper clips. If even one is missed, it can destroy your expensive shredding machine, and then you're on the hook for another several hundred dollars in repairs. But let's assume that you boldly carry on, and after a day of shredding, the papers are finally processed. But they can't be dumped into the recycling bin out back.
You must now figure out a way to securely transport these particles – being careful not to lose any of the tiny pieces, or you'll violate compliance laws – to a trustworthy recycling plant. How much will the gas cost to get there, and which vehicle will your employee take?
When the task is finally done, you've lost days. Your wallet is several thousand dollars lighter. You're behind on your schedule. And you've got to do it all again in a month or so. The good news is that there is, in fact, a better way.
The Professional Way: Scheduled Shredding
St. Louis entrepreneurs aren't in their companies for the short term. They're determined to succeed, and The Shred Truck is determined to help. Our scheduled shredding service in St. Louis eliminates all the separate choices and the what-ifs of an in-house shredding plan and distills it into a 100% effective and affordable solution, scalable to any amount of papers you need to discard. See, we don't set the shredding schedule. You do. Weekly, bi-weekly, monthly, or even bi-annually – you tell us what your business needs to thrive, and we'll make it happen.
Scheduled document shredding begins with the drop-off of locking consoles, designed to fit into your office and provided to you free of charge. Your employees can use these consoles to safely discard papers throughout their workday, and on the date of your scheduled paper shredding appointment, one of The Shred Truck's trained technicians will empty the consoles directly into our state-of-the-art mobile shredding machine.
Your documents (yes, even the paper clips – we sort them out later) will be cross-cut in full compliance with the standards required by the latest privacy legislation. You'll even have the option to observe if you wish to personally verify that the documents were destroyed. When your scheduled shredding is complete, you'll be provided with a Certificate of Destruction, and we'll transport the particles to a vetted local recycling facility to be washed, cleaned, and transformed into pulp for recycled paper products.
It's the best protection you can get for your documents, and the only thing you had to do was make a phone call.
Shredding Services from The Shred Truck
We're proud to hold AAA Certification from the National Association for Information Destruction (NAID), which means that all of our shredding processes, from start to finish, meet the standards laid out by all known privacy regulations. You can be confident in your choice of scheduled shredding in St. Louis, and confident that you're giving your company the support it needs to thrive.
If you'd like more information about our scheduled document shredding service, give us a call at (314) 729-9200. You can also request a free quote online.