For the best in convenience, ask about The Shred Truck's mobile shredding service in St. Louis. One of our state-of-the-art shredding trucks will be dispatched directly to your door, whenever you request, to shred however many documents you would like to be destroyed. We even offer an emergency 24-hour purge shredding service. Watch in-person as your papers are professionally shredded for unparalleled peace of mind.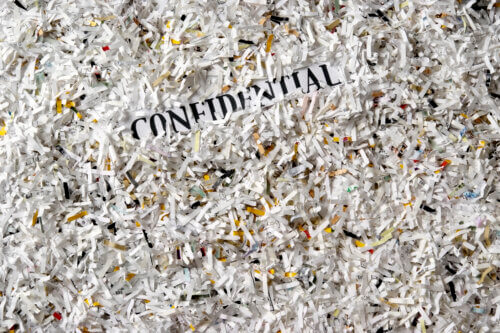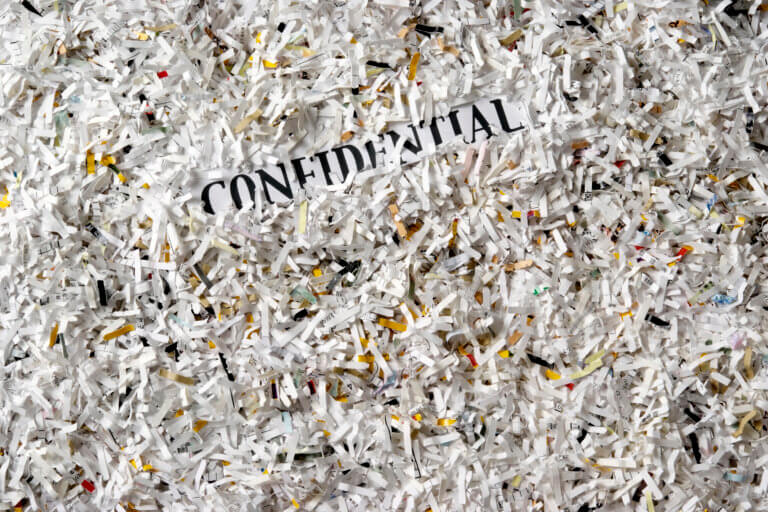 Your information deserves protection, even after it's no longer needed. The public trash can or office recycling bin leaves documents open to passers-by and at risk of being stolen. Don't take a chance with confidential information. Instead, trust it to professional mobile document shredding from The Shred Truck.
What are Mobile Paper Shredding Services?
You're likely already familiar with the idea of document shredding, whether from your own experience with an off-the-rack shredder or from taking documents to a drop-off provider. Mobile document shredding is different in that it provides you with unparalleled convenience and first-person confirmation of successful destruction, all at an affordable price.
Why Mobile Document Shredding is Our Most Popular Service
At The Shred Truck, we provide several different kinds of document shredding services in St. Louis, but mobile paper shredding is easily our most popular. The technical aspect of the shredding process is unchanged throughout our services (everything we process is cross-cut into tiny pieces in full compliance with privacy legislation), but mobile document shredding brings several unique advantages to the table.
Mobile Shredding in St. Louis, At Your Convenience
The core premise of mobile document shredding is that it can happen anywhere. Instead of a professional shredding machine operating solely on a stationary basis in a secure facility, the shredding machine can be delivered directly to your doorstep, whenever you need it. This means you don't have to plan extra travel time to drop off papers yourself or get stuck with the only available appointment slot at an inconvenient hour.
The Shred Truck's mobile shredding service in St. Louis makes it easy to get rid of old documents in a safe and confidential manner at your convenience. The only thing you have to do is tell us where to be and when (and point out which documents need to be destroyed). We'll handle the shredding, the provision of a Certificate of Destruction, and the transport of your shredded documents to a secure recycling facility. It's never been easier to protect your information.
Witness Your Shredding in Person
Mobile document shredding comes to you, which means that when you turn your papers over into the care of The Shred Truck, you don't have to take our word for it that they were properly destroyed. If you wish, you can watch the shredding process immediately as it occurs, personally verifying that each and every leaf of paper made it safely into the shredder.
This means no more sleepless nights or anxious mornings wondering about all the possible "What if's" that could happen to your confidential information. You'll be able to count on the fact that your documents were completely and safely destroyed because your mobile shredding service allowed you to verify that fact for yourself.
Versatile Mobile Paper Shredding for Every Possibility
One of the main reasons why our mobile shredding service in St. Louis is so popular with clients is that its versatility means it can be configured to perfectly suit any amount of shredding you require.
Have years of old documents that have accumulated in your home? Mobile document shredding means you can watch as they're destroyed right in your own driveway.
Do you oversee a busy office or workplace that constantly produces and handles documents with personally identifiable information (PII)? Simply ask for our mobile paper shredding service to visit the office parking lot however frequently you need (we proudly provide both one-time and scheduled mobile shredding services). Your office will be able to stay clean, and more importantly, you'll be able to effortlessly achieve compliance with all known privacy laws.
Want to provide a boost to your company's reputation or raise funds for your favorite charity? Mobile document shredding can be used to host a Shred Event at the place and time of your choosing in St. Louis. We'll shred whatever your guests need to safely discard, so all you have to do is spread the word about the event.
Mobile Document Shredding in St. Louis: The Shred Truck
When you choose mobile shredding in St. Louis for your home or business, you're choosing the best in convenience without compromise for your confidential documents. The Shred Truck is AAA Certified by the National Association for Information Destruction, which means that our mobile document shredding process has consistently met or exceeded the standards required by all known privacy laws. Your information deserves the best possible protection, which is why each and every one of our mobile document shredding services also come with complementary Downstream Data coverage.
Every particle of paper we process is securely recycled, so you can feel confident about selecting an eco-friendly mobile shredding service (and that's something your customers can take pride in, too). No matter whether you need a one-time purge shredding appointment or regularly scheduled visits from one of our mobile paper shredding trucks, The Shred Truck is ready and waiting to provide you with effective, affordable shredding and exemplary customer care.
To learn more about mobile document shredding services from The Shred Truck, give us a call at (314) 729-9200 or ask for your free shredding quote online.