Jefferson City's Top Choice for Mobile, On-Site Paper Document Shredding Services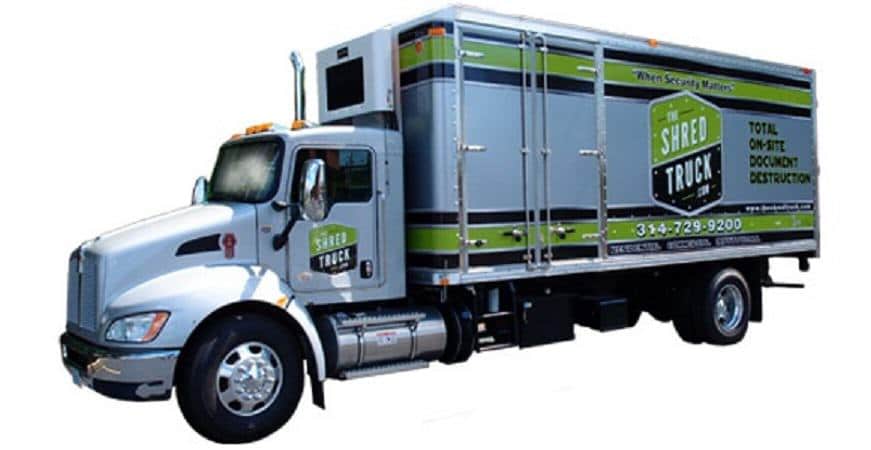 Identity theft can happen anywhere—even in Jefferson City. The Shred Truck gives you a secure and reliable identity fraud prevention solution. We'll come to your home or business in or near Jefferson City and destroy your documents on-site in a matter of minutes! Protect your privacy and gain peace of mind with our document shredding services!
Scheduled Shredding Services
Are you spending too much time shredding documents in-house? Our scheduled shredding service saves you time and money. We bring lockable shredding containers to your location to eliminate the hassle and mess of using an office shredder and enables quick and easy file disposal. Choose from four container sizes to meet your shredding needs:
Locking Executive Consoles
Vertical "Slim" Consoles
64 & 94-Gallon Rolling Bins
Personal Sized Containers
Based on a schedule customized to your shredding needs, we collect your documents, destroy them on-site and provide you with a Certificate of Destruction to prove your documents were securely destroyed. Start scheduled shredding with us today and we'll give you one month of shredding free!
One Time Shredding Services Near You
Are you buried under a mountain of paper? The Shred Truck's one time shredding service helps you quickly and easily purge documents that have expired. One of our screened professionals will come to your facility, collect your documents and shred them on-site in a matter of minutes. You can watch the document destruction process in real time. We can even provide secure shredding bins to help streamline purges of large quantities of confidential files.
Secure, Certified Paper Shredding Company
The Shred Truck is serious about the security and confidentiality of your information. We've invested in the best employees, processes and technology to make sure your documents are handled and destroyed with a strict chain of custody process and that we comply with privacy protection laws.
Our uniformed drivers undergo background screening, fingerprint checks and drug testing, and are easily identifiable by a Shred Truck ID badge. As a NAID AAA Certified shredding provider and proud member of the Mobile Shredding Association, we meet the highest security and ethical standards in the document destruction industry.
For more information about our shredding services in or around Jefferson City or a free quote, please call us at 314-729-9200 or complete the form on this page.
Shredding in Jefferson City MO
Call The Shred Truck™ for Shredding Today or Tomorrow at 314-729-9200