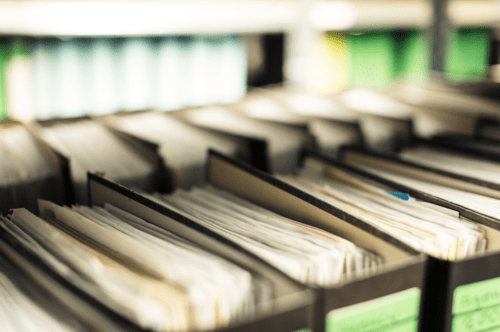 The Shred Truck has been a specialized on-site shredding company in St. Louis for many years now; however, we also offer drop-off shredding, an affordable alternative for residents. Drop-off shredding is the perfect solution for residents because it combines the security of industry leading document shredding with the convenience and flexibility needed for everyday life.
Why You Should Be Using Drop-Off Shredding
There are a variety of reasons why you should be using a drop-off shredding service offered by a certified shredding provider. Below are just a few of those reasons:
Fewer Amount of Documents
Let's face it; you're not generating anywhere near as much sensitive information on paper as you would in an office setting. Utilizing an on-site shredding company is fantastic for when a large number of documents are accumulated over a short period of time. But that doesn't apply to you, does it. That's where drop-off shredding comes in. It fills that gap that residents like you need to handle your document disposal needs without breaking your bank.
Inconsistent Volume of Documents
At home you are far less likely to have a consistent flow of documents. For example, when tax season comes to an end, you're left with documents you no longer need. Drop-off shredding is perfect for handling these types of shredding needs.
Protection from Identity Theft
Identity theft is a growing problem in the country as a whole. Not properly shredding your documents will leave your information vulnerable. It only takes a couple common pieces of information like a name and address for someone to attempt to steal more sensitive information. That's why it's important to be vigilant in shredding all documents with personal information, including but not limited to:
Bank Statements
Financial Documents
Letter Envelopes
Package Shipping Details
And so much more…
More Secure Than Home Shredders
You've seen them at your local office depot, or you might already have one. Home shredders might seem like a good idea at the time, but inherently they are far less effective than professional shredding. Most home shredders will turn your documents into thin strips of paper. When you throw these shredded pieces into a dumpster or on the curb, determined thieves can collect them and rearrange the leftovers to read the information that was on the original document.
In contrast, our shred trucks are equipped with the industry's best shredders. These shredders pierce, tear and rip documents into very small, indistinguishable pieces of paper, making it impossible to put them back together. All shredded material also gets mixed in with other customers' shredded documents, and is taken directly to a secure recycling facility. They will never end up in the hands of someone looking to steal your identity.
How to Prepare for Your Next Drop-off Shredding Appointment
Now that you're aware of why a professional drop-off shredding service is the best choice to protect your information, it's time to get prepared! Below are a few tips that can help you make the most of your next drop-off shredding visit with us:
Have a Solid Filing System
Ensuring the documents that you need to keep a record of are stored and sorted properly is essential for staying organized. You can even organize them based on how long you should retain them and when they should be shredded. That way, when it comes time to check for papers needing to be shredded, they're already pre-labeled and sorted.
Designated Space for Documents to Be Shredded
When you know you are done with certain documents or pieces of paper, have a space dedicated to storing them that is out of the way, but easy to access for later. Consider keeping a bag, box or a more secure locking container to store these documents in for later retrieval. The fewer places you need to look for documents requiring shredding, the better.
Ask Your Family or Neighbors
When you have a plan for dropping of your documents for shredding, you should consider asking your close relatives or neighbors if they have any documents as well. We only recommend asking your neighbors if you have a good relationship with them, as handling sensitive information like this requires an above-average level of trust.
They might have a small amount of documents themselves that need shredding, and a trip to a shredding company by themselves may not make sense yet. If you collect these documents for them, and they contribute to the total fee, you might end up saving more money in the form of discounts.
You're All Set
Now that you are equipped with the knowledge of why you should be using drop-off shredding and even some tips on how to optimize for it, you're all set! You're ready to give us a call to book your drop-off appointment. We'll even unload your car for you to make your life even easier!
The Shred Truck is your locally owned shredding provider with a NAID AAA Certification. We're ready to handle any size shredding job, so get in touch today!