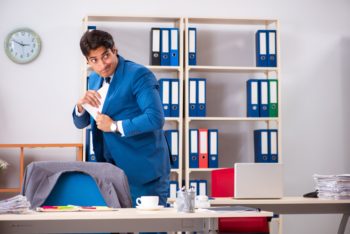 In the Digital Age, every business needs to protect against phishing, hacking, and malware. But not every threat involves sophisticated cyber skills. Thieves look for the weakest points of vulnerability, and if your security strategy doesn't include protecting hard copy data, your entire business is at risk. In this blog, we discuss three low-tech threats to your information and offer tips for keeping them at bay.
1. Business Insider Theft
Insider theft is a rising problem for businesses. Dishonest employees don't just embezzle money; they steal trade secrets, customer lists, financial account data, and personally identifiable information (PII). Always keep confidential documents under lock and key and implement a final disposition policy for sensitive documents when they expire. Partner with a document destruction provider who offers recurring scheduled shredding. Locked, bar-coded collection containers are placed in high-traffic areas throughout your office, allowing for discreet, secure disposal of confidential documents. Your shredding and destruction provider regularly empties the contents of the containers for professional, on-site mobile document destruction.
2. Mail Theft
You don't think twice about sticking a stamp on bill payments, customer invoices, and other business hard copy correspondence and leaving them in the mailbox for the mail carrier to pick up. But have you considered the consequences of a thief getting to your mail before the mail carrier does? Theft of business mail is on the rise, so always bring sensitive mail to a post office for delivery. Know the exact time your mail is delivered to your business and collect it promptly. Consider investing in a PO box to prevent your mail from being stolen.
3. Dumpster Diving
While the thought of digging through someone's trash seems disgusting, identity thieves have no qualms about getting their hands dirty, especially if they can find a gold mine of sensitive information. Business dumpsters with carelessly-discarded personnel files, bank statements, and expired contracts are lucrative targets. Always shred sensitive documents before tossing them in the trash. But keep in mind that thieves often steal bags of shredded material from corporate dumpsters and reconstruct the shredded documents. A more secure solution is outsourcing your shredding to a locally-owned paper shredding provider that partners with a trusted recycling provider. That way, you know your shredded documents will never end up in the dumpster.
With myriad identity theft and business fraud risks, you can never be too cautious when protecting your information. Keep an eye out for low tech threats and use the security tips we've mentioned here.
The Shred Truck™ provides NAID AAA Certified mobile, on-site paper shredding and hard drive destruction services in and around St. Louis, Missouri. For more information, please call us at 314-729-9200 or complete the form on this page.