Secure Mobile Shredding Services in Farmington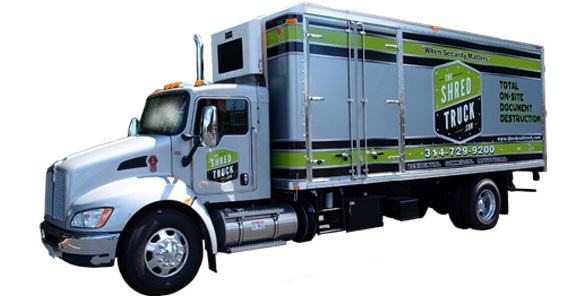 Farmington, the county seat of St. Francois County, is located 75 miles southwest of St. Louis. Farmington is located in Southeastern Missouri's Lead Belt region, also known as the Southeast Missouri Lead District, a lead mining region that produces more than 70% of the US lead supply.
Local businesses in Farmington are thriving and expanding, which makes the city an appealing place to relocate or start a business. However, with this increase in activity comes an increased risk of identity fraud. To protect yourself and your business, you need a reliable document destruction solution.
The Shred Truck's scheduled and one-time shredding services help protect you from identity fraud and give you peace of mind. We'll come to your Farmington home or business and destroy your documents on-site in a matter of minutes! With our service, you can rest assured that your sensitive information is safe and secure.
Call 314-729-9200 for On-Site Shredding at your Farmington location!
Ongoing Scheduled Shredding Services
Our scheduled shredding service is a convenient way to destroy your confidential documents. We'll bring lockable shredding collection containers to your business or home and you can simply place your files in the container. On a monthly or quarterly basis, we'll collect your documents and shred them on-site.
Choose from four container sizes to meet your document disposal needs: Executive Consoles, Vertical "Slim" Consoles, 64 & 94-Gallon Rolling Bins, or Personal Sized Containers.

The Many Benefits of Scheduled Shredding
Most people think that shredding is a one-time event. They'll wait until they have a huge pile of documents and then they'll hire a company to come in and do a big job. But the reality is that shredding should be an ongoing process. Here are some of the benefits of having scheduled shredding as part of your security plan:
Convenience - When you have scheduled shredding, you don't have to wait until you have a big pile of documents. You can just put them in the storage container and they'll be shredded on the next service call. This is much more convenient and it helps to keep your office organized.
Flexibility - With scheduled shredding, you can decide how often you want the service to come. If you have a lot of documents, you might want it to be weekly. Or if you have a small office, bi-weekly or monthly might be fine.
Evidence - Having a Certificate of Destruction is evidence that you are taking steps to protect your customer's information. This can be important if you ever have an audit or if there is ever a question about your security practices.
Start scheduled shredding with us today and we'll give you one month of shredding free!
One Time Purge Shredding Services
It's important to know that not all shredding services are created equal. Some companies will only purge shred once a year, which means your sensitive documents could be sitting in storage for months at a time. That's why it's important to find a company that offers one time shredding services. This way, you can rest assured knowing that your documents will be destroyed immediately. In addition, many companies will also offer on-site shredding, which is even more secure. So if you're looking for the most secure way to destroy your sensitive documents, be sure to find a company that offers one-time purge shredding services.
Secure & Certified Paper Shredding Company
At The Shred Truck, we understand how important the security and confidentiality of your information is. We carefully select our employees and have procedures and technology in place to ensure that your documents are securely destroyed using a strict chain of custody process. Our uniformed drivers are easy to identify by their Shred Truck ID badge. They undergo drug testing, and background and fingerprint checks before joining our team. As a NAID AAA Certified Shredding provider and member of the Mobile Shredding Association, we meet the highest security and ethical standards in the document destruction industry.
For more information about our shredding services in or around Farmington, please call us at 314-729-9200 or complete the form on this page.